La piattaforma Humble Bundle celebra lo Star Wars Day 2020 con tutta una serie di giochi per Steam e Origin in offerta (ovviamente a tema Guerre Stellari). Andiamo a dare un'occhiata ai titoli proposti, con sconti fino al 75%.
Humble Bundle x Star Wars Day 2020: ecco le offerte Steam e Origin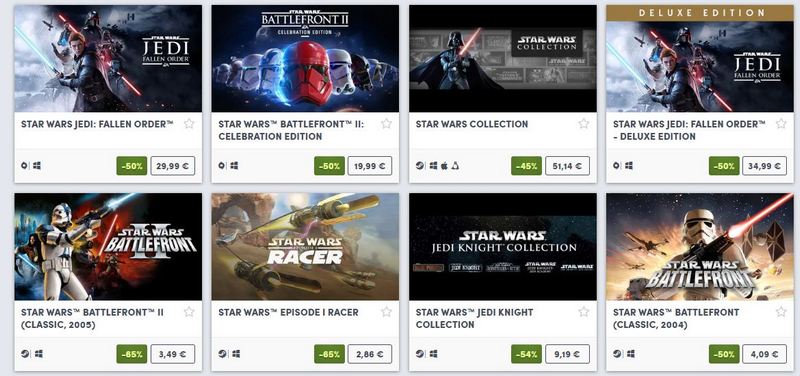 Tra le proposte di Humble Bundle in occasione dello Star Wars Day 2020 ovviamente troviamo anche l'ultimo Star Wars Jedi: Fallen Order, accompagnato dall'intramontabile Battlefront II. Se preferite i classici allora Knight of The Old Republic II farà di certo al caso vostro, specialmente se in sconto al 65%. Invece, se amate i celebri mattoncini danesi troverete ad attendervi anche LEGO Star Wars: The Complete Collection.
Quella in alto è solo una selezione di titoli, mentre per dare un'occhiata all'elenco completo, qui trovate la pagina dedicata all'evento di Humble Bundle. Infine vi segnaliamo che le offerte dedicate allo Star Wars Day 2020 sono disponibili per quattro giorni (quindi solo per un periodo limitato di tempo).
---
📱Segui PlayEden su
Google News
,
clicca sulla stellina per inserirci nei preferiti
⭐️.
---